Court Interpretation Services in U.S. Courts: Challenges and Solutions
Nina Reyes
|

October 25, 2023

Interprenet has been providing court interpreting services to U.S. courts since its founding 20 years ago. Over the years, not only have language services evolved, but we have also seen the introduction of court technology that makes the modern court more efficient.

However, despite the use of current technology, many U.S. courts face several challenges in providing interpretation during judicial proceedings. Let's look at them:
Limited access to qualified interpreters for court interpretation
The demand for interpreters at U.S. courts is high, which can make it difficult to find appropriately trained and certified interpreters. The Administrative Office of the U.S. Courts reports that there are more than 3,600 interpreters registered in the judiciary's National Court Interpreter Database. Federal courts alone used interpreters in 138,738 court proceedings in 2022, according to the Administrative Office's Annual Report.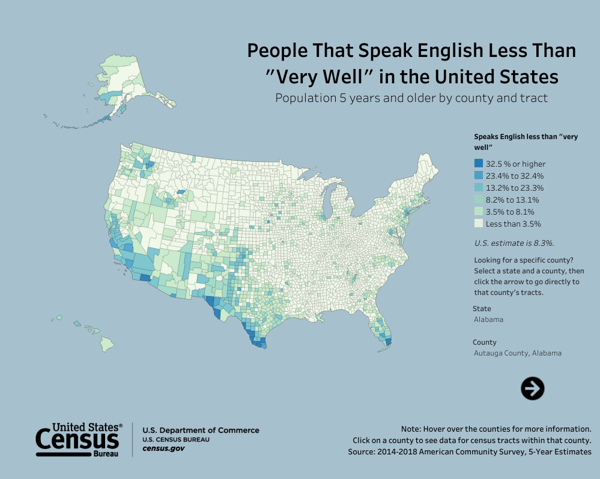 Let's also consider the judicial caseload of the U.S. state courts and the fact that about 8.3% of the U.S. population speaks English less than "very well", according to the United States Census. Given the large number of hearings per year that require interpretation, it is likely that there are not enough qualified interpreters to go around, especially if you want them onsite. This shortage of certified court interpreters results in unequal language access to justice.
Language proficiency and cultural knowledge
Interpreters must accurately interpret complex legal proceedings, including specialized legal terminology, and understand the nuances of different cultures to ensure effective communication between parties. Inadequate language skills or a lack of familiarity with legal concepts can lead to misinterpretation or misunderstanding during the proceedings.
Maintaining impartiality and neutrality
Another challenge is maintaining impartiality and neutrality while providing court interpretation. Interpreters must remain neutral and refrain from providing legal advice or influencing the outcome of the trial or hearing. Experienced court interpreters can separate themselves emotionally from the proceedings, especially in cases involving highly sensitive or emotional content. Qualified interpreters also follow the code of conduct set forth by the judiciary addressing accuracy of interpretation, impartiality and conflict of interest, professional demeanor, confidentiality, and others.
The shortage of professional court interpreters holding appropriate certifications impacts the accuracy and fairness of interpreting services in U.S. courts and highlights the need for ongoing training and support for interpreters.

Remote Certified Court Interpretation as a Solution
To help courts overcome the interpreter shortage, we offer federal and state courts across the U.S. a powerful remote interpreting solution that handles both consecutive interpreting and simultaneous interpreting. Our remote interpretation solution works with the court's existing A/V technology and lets certified court interpreters interpret from any location without having to be physically present in the courtroom.
Our court interpreters are accredited, which allows courts to access a larger pool of professionally trained and certified interpreters, regardless of language needs or location. We often fulfill rare language requests that the courts cannot meet by relying on their existing database of certified court interpreters. Remote court interpreting is also ideal for reaching rural areas that would otherwise not have easy access to certified court interpreters locally.
Remote court interpretation reduces costs to the court system because interpreters spend less time traveling to the court and moving between courtrooms. Their time can be spent more efficiently on actual interpreting during hearings. By eliminating travel expenses and time spent traveling, the overall cost of bringing in a court interpreter is lowered.
Courts also benefit from more efficient proceedings overall when they are accommodating participants with Limited English Proficiency (LEP) . Cases do not have to be adjourned or rescheduled because of the lack of an interpreter. And when working remotely, interpreters are available on short notice, improving equal language access for everyone.
Efficiency in judicial proceedings can even be further enhanced when remote interpreters interpret simultaneously. Remote simultaneous interpretation, also called RSI, enables a seamless flow of communication between participants without lags or disruptions, which results in much shorter court hearings. The result: Courts can operate more efficiently overall. RSI is enabled through the use of common virtual meeting platforms such as Zoom, MS Teams, or WebEx. At Interprenet, we work with a court's existing technology and software infrastructure so that courts can benefit from remote interpretation without having to undertake a complex setup.

"Access to justice … means language access. People should not be excluded from the promises of our laws because of the language they speak."
~

Office for Access to Justice Director, Rachel Rossi in her keynote remarks during Stanford Law Review 2023 Symposium on Access to Justice
Case Study: Kane County in the Chicagoland area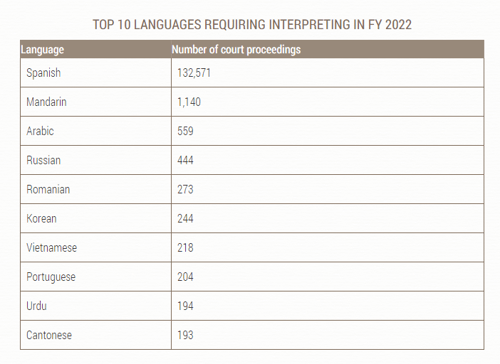 Let us share an example of one district court that Interprenet has provided with remote court interpretation. Kane County, a part of the larger Collar Counties in Illinois, is home to the Illinois 16th Judicial Circuit.
Here's how the Kane County district court enhances its court operations with the remote interpretation solution provided by Interprenet:
• A dedicated expert interpretation scheduling team
• In-house and contractor court-certified interpreters to ensure availability
• A team of four interpreters covers all the needs of Kane County
• Interpreters can be "moved around" from one courtroom to another efficiently
• Technology training for interpreters, judges, and court administrators
• Per-hour billing

Reliable Access to Language Justice
By working with a professional language service provider like Interprenet, who can optimize the use of remote court interpreters, courts can operate more efficiently and provide reliable access to language justice.
Interprenet's remote interpreting platform meets the latest security standards. Audio and video streams are encrypted with 256-bit encryption, while access to the tool is controlled by two-factor authentication (2FA) via SMS or email. The platform has been specifically developed with usability in mind and offers all the features required for a smooth interpretation workflow, such as language selection, the option to mute the floor audio, and an interpreter handover function.
Do you want to learn more about how your court can benefit from enhanced court interpretation? Contact us today!