Interprenet saved "my life". We were at a conference at the Ritz-Carlton in Washington D.C. for a Private Equity group when suddenly the system that we had contracted crashed!
Interprenet offered their Remote Simultaneous Interpretation platform via their smartphone app.
We set up our interpretation channels in less than 30 minutes and continued with our conference. Interprenet is easy to set up and to use!
The Interprenet Advantage™ for Interpretation Technology
Advances in speech recognition, machine translation and voice synthesis are making fully automated interpretation a reality, though one that must be faced with caution.
Computer-Assisted Interpretation (CAI)
When an unexpected term comes up in the middle of a speech, CAI tools give interpreters that extra support to complete their interpretation accurately.
Remote Simultaneous Interpretation (RSI)
Powered by a cloud-based platform, our technology supports real-time interpretation services for hundreds of events every year in a broad range of industries. RSI is not only perfect for traditional events with on-site attendees, but it is the ideal way to integrate high-level remote interpretation into your next web conference or online meeting.
RSI: User-Friendly Technology
User-friendly and versatile web interfaces for speakers, participants and audiences, developed in close cooperation with end users and experienced conference organizers.
Browser and Mobile apps for iOS and Android, with easy selection of language channels within the app.
Works on all electronic devices, including smartphones, tablets, laptops and traditional headset receivers.
Convenient login by typing in a single token once; no registration required.
2-factor authentication can be enabled for increased security and for per-user billing.
Phone calls can be received, and other apps can still be used while listening to the interpretation.
Low battery consumption allows users to listen for an entire day.
RSI: Intuitive Interface for Remote Interpreters
Clear and intuitive web interfaces developed in close collaboration with experienced interpreters and professional conference organizers.
Relay simultaneous interpreting is powerfully simple: fast one-click switch between languages.
Interpreters can select between multiple videos of speakers and audience.
Smart countdown timer, to facilitate the handover between remote interpreting partners.
Integrated screen-sharing feature allows the speaker to share the presentation during the speech.
RSI: High Quality Audio and Video
Full bandwidth (20 Hz – 20 kHz) audio at 48kHz sample rate; this is among the highest on the market and provides crystal-clear sound for the interpreters.
Reliable connections with automatic line monitoring and auto-reconnect in the event of the Internet connection being interrupted.
Compatible with traditional audio equipment and software: Dante, Bosch, Sennheiser, etc.
High-quality HD video of the speaker for the interpreters, at 720p resolution.
Lip sync: sound and image are fully synchronized.
Easy integration with existing cameras on site and simple switch between video channels.
Large-scale events: thousands of users at one or many locations can be connected simultaneously.
Interpreters can chat with the speaker, their interpretation partner, or request help from the event moderator.
RSI: Advanced Control Panel for Live Monitoring and Event Management
Advanced control panel interface allows for world class interpretation service support during event. Provides a detailed overview of interpreters, users and connections in real-time, allowing remote control of all microphones and channels.
Event or company logo can be made visible on the App, reinforcing the partner's or client's brand identity.
Video and audio files can be recorded and mixed for post-event use if requested by client.
Next generation statistics. Detailed reports including number of users per language, room and type of device.
RSI: Privacy and Security
Best practices for network security on the Interprefy platform — a 128-bit encryption across all communication streams is used; SRTP encryption is used for media and DTLS-SRTP for key negotiation.
The cloud-based platform software is installed on dedicated servers on several continents.
Separate cloud-based sessions and language rooms — which are accessed by individual tokens — are created for each event.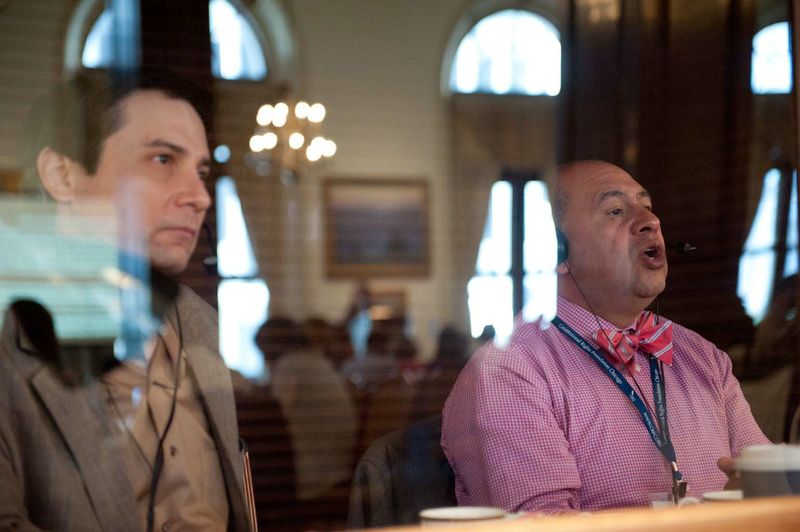 In-person Simultaneous Interpretation (SI)
Unlike RSI, in-person simultaneous interpretation requires extensive professional installation and management of specialized equipment to ensure a seamless interpretation service. While some equipment requirements can vary slightly, the core components are the same.
Interpreter Booth
– Soundproof booths used to avoid noise interference. By hearing the speaker only, the interpreters are not distracted by ambient noise, and their interpretation is only heard by the audience it is intended for. Depending on the audience size, you can choose from one of two interpreter booths:
Tabletop: Placed on a table, surrounding the interpreter on most sides it only provides partial sound isolation. This is recommended for smaller audiences or tighter spaces. Minimum 5ft by 3ft footprint.
Full booth: A larger fully enclosed booth offering excellent sound isolation, complete with four walls and suitable for a team of two interpreters. Each language booth requires a minimum 8ft by 8ft footprint on your event floor.
Interpreter Console – Allows the interpreter to take in the presenter's speech through their headphones and microphone and instantly transform it into another language through simultaneous interpretation.
Transmitter – The interpreter translates what is said simultaneously into the target language and a Radio Frequency (RF) or IR (Infrared) transmitter instantly sends the signal to the digital headset receivers in the room.
Emitters – Infrared Emitters are hung on trusses or raised on tripods to ensure that infrared signals can be evenly distributed throughout the venue and attendees can hear the interpretation on their infrared headset device.
Audience Headset Receivers – Worn by the audience members that need to hear the interpretation of the presentation. Delegates listen in to the interpretation through headphones plugged into their wireless receivers.
Portable Systems – For walking tours or study tours that are constantly on the move, interpreters use small portable transmitters with small overhead microphones to transmit to attendees wearing headsets.
Over-the-phone Interpretation (OPI)
Over-the-phone interpreting is the fastest and simplest way to reach an interpreter in any language and any industry.
Telephonic Interpreters available on demand 24 hours/day, every day of the year
Live Customer Service Representatives (CSRs)
Combination of Live CSRs and Interactive Voice Response (IVR)
Easy to use with no need for special equipment
Available in more than 200 languages
Access to an interpreter within seconds
Extensive Credentialing Process, Orientation and Evaluation of all Interpreters
Full Compliance, Data and Interpreter Security
Advanced Technology and Call Capacity
Easy Account setup and Implementation
Billing takes place in one-minute increments
Video Remote Interpretation (VRI)
VRI is an excellent alternative to in-person consecutive interpretation. Use any device like a PC, laptop, tablet or smartphone to download our application and securely connect to a live, face-to-face video interpreter in one of several languages including sign language.
For your convenience, use your own device like a smartphone, tablet, laptop or computer to have access to a virtual face-to-face interpreter. VRI works with your current infrastructure and does not require extensive technical support or any investment in new hardware.
Superior technology makes our user interface easy to use and ready to go with WIFI, ethernet or cellular connection. The software adjusts to your internet speed to maintain and optimize the quality of the network connection.
Secure and encrypted video network for privacy and security compliance.
Machine Interpretation (MI)
Machine interpretation is no longer a futuristic dream. While still limited in its ability to deliver fully reliable interpretation, it can be used during meetings and events where otherwise no alternative form of interpretation may be available.
While machine interpretation happens instantly, it depends on three key processes that are continuously evolving and improving the quality of real-time translation:
Speech recognition: Cloud-based software recognizes what is said in a language and converts it into text.
Neural Machine Translation (NMT): Text is automatically translated into the target language through specialized machine translation platforms that are customizable and adaptive or self-learning.
Text-To-Speech (TTS): The MI platform enables speech synthesis which reads out the preferred simulated voice to the target audience on a smartphone app or any electronic device.
Computer-Assisted Interpretation (CAI)
Technology is helping simultaneous interpreters to reach 100% accuracy.
Computer-Assisted Interpretation tools are providing novel ways for interpreters to receive real time interpretation assistance related to technical terminology, acronym identification, and proper names clarification.
Live captions: Speech recognition and live caption options enhance the interpreter's ability to grasp the full message of a speaker by seeing the live transcript displayed on their interface.
Data banks and specialized glossaries: Entire speeches and glossaries can be entered into cloud-based servers which can in turn provide on-demand specialized terminology support to interpreters during a conference right on their interface.
Notification pop-ups: As data processing becomes more intelligent during events interpreters can enable pop-ups on their screen which automatically display technical terms or crucial concepts with their equivalent translation.