Why You Need Intelligent Translation Solutions for Your Event
Kate Accetti
|

July 7, 2022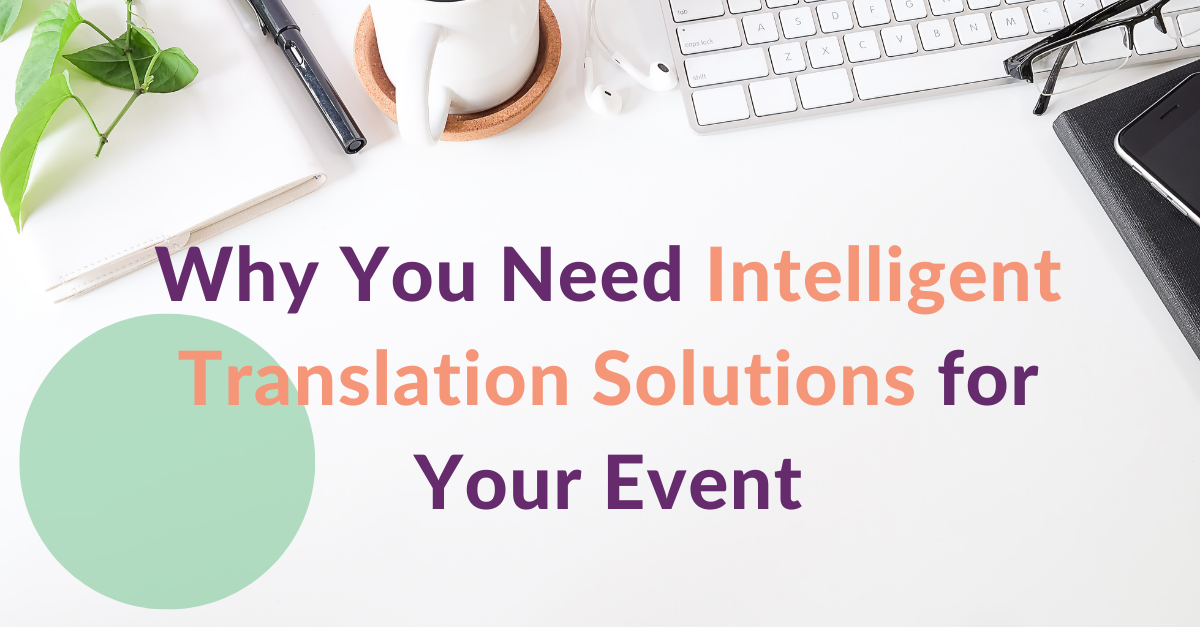 When it comes to planning a multilingual business event, providing live interpretation services — whether on-site or remote — is critical to ensure that each attendee can fully understand the meaning of the shared information.
However, a trade show, conference or large business meeting is about more than the actual live portion of the event. The better you understand what your attendees are looking for throughout the course of an event, the better you can serve them, engage them, and ensure they have all the information they need at all times. This is where intelligent translation comes in.
Here you'll find often overlooked aspects of multilingual event solutions that will complete your event and make it a success.
Provide access to multilingual information in advance of an event.
Your event attendees are likely looking for information about your event in advance. They may want to get an overview of all the sessions and speakers they can expect. They may want to download the event program or prepare for the sessions by learning about a specific topic or watching pre-recorded interviews with speakers.

Sometimes business reports, research findings, or marketing materials are shared in the run-up to an event to allow attendees to prepare for specific sessions or meetings they plan to attend.

Here is your opportunity to provide these materials and reports in different languages so that participants can engage with and fully understand the content in their preferred language to avoid any potential misunderstandings. Providing professionally translated materials and information to your audience not only ensures accurate communication, but also makes event preparation a convenient and pleasant experience for everyone.
Serve attendees in different time zones.
If you're hosting a virtual or hybrid event for attendees in different time zones, not all attendees can participate in the live sessions. Here you have the option to provide recordings of presentations and keynotes as audio or video recordings, with the interpretation audio embedded in each file.
This solution is called Interpretation Overlay, a process that overlays audio content in a recording with interpreter audio. Overlay allows event attendees to watch any video or listen to recorded audio from your event in their preferred language.
Share key takeaways with your audience after an event.
Whether your event is in-person, virtual, or in a hybrid setting, attendees may miss a session. Others may want to review a presentation after the event is over or recap key learnings in a convenient format.

Here you have the possibility to share recordings or Multilingual Meeting Transcripts with your attendees after the event. Meeting transcripts are transcripts delivered after the event in a text file generated through Automated Speech Recognition (ASR). The transcript can be created in any of the spoken languages of your event. It is then edited by a professional human linguist to ensure accuracy and correct flow.

Sharing video recordings with Embedded Multilingual Subtitles is another great way to complete your multilingual event services. For this purpose, a transcribed text is expertly translated for subtitling, meaning approved changes are made to the text length per frame without changing the meaning of the original content. The text files for the different languages are then placed or embedded in the desired media to be displayed on the user interface.
Intelligent Translation for all your event needs
At Interprenet, we offer intelligent translation geared to the entire event ecosystem. You can choose between expert translation by a professional human linguist, full machine translation, or a combination of machine translation and editing by a skilled human linguist. Our team of experts will analyze your project and recommend which option is best for your content.

Ready to discuss your next multilingual event setup? Speak to our team today!


Interpreting Services Article Categories:
New Solution Updates | What's New at Interprenet?