Presenting the Interprenet Language Solution Ecosystem
David Medrano
|

December 5, 2022

Language solutions are interconnected as part of a whole system of communication between individuals and organizations worldwide. At Interprenet, we adopt a consultative approach that factors in this interrelationship between language solutions. In this way, we help our clients achieve their business objectives with solutions that make the most sense at each point of their journey.


Let's look at two examples to illustrate the flexibility and multipurpose nature of the Interprenet Language Solution Ecosystem: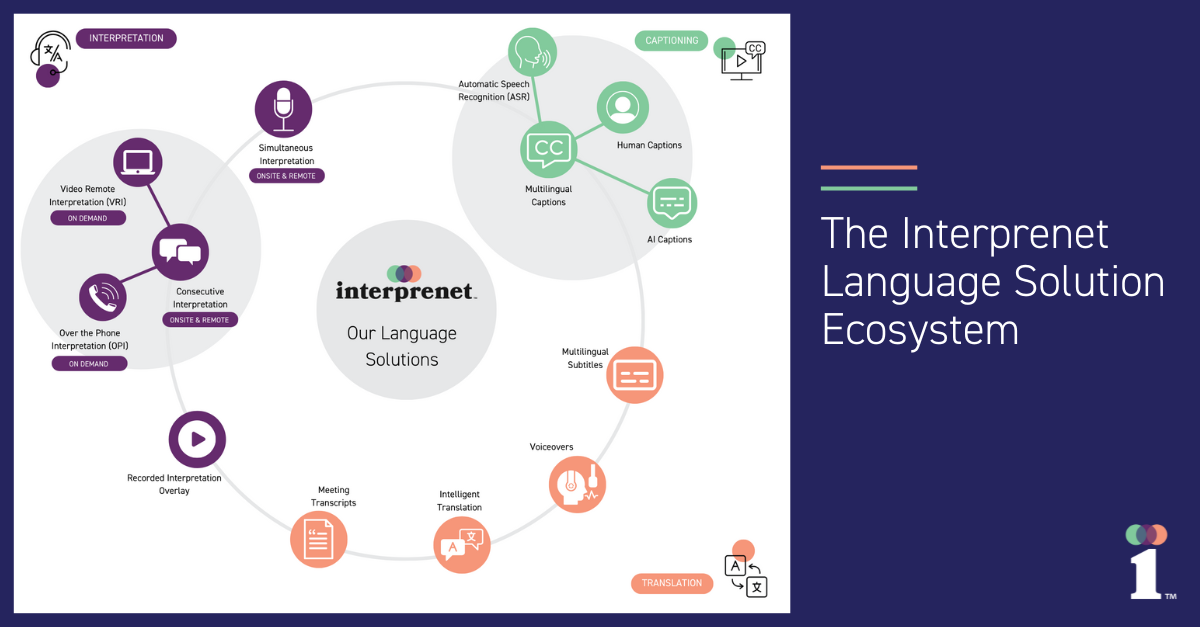 A Human-To-Human Mindset to Multilingual Challenges
Many of our solutions are powered by amazing technologies, including cloud-based real-time communication platforms, translation management systems, interpreter scheduling programs, and AI tools. However, the real key to helping our clients with the right solution is a human-to-human (H2H) mindset. H2H means a total commitment to listening to our clients, diagnosing their needs, and resolving their multilingual challenges - personably. H2H prioritizes the accuracy and reliability of human linguistics over AI. And finally, H2H leverages technology to enable our top language specialists to deliver efficient, cutting-edge solutions at competitive prices.


Our Language Solution Ecosystem is divided into three categories of solutions:
Interpretation: Our focus is on interpretation, which means we expertly cover the full spectrum of interpretation services in any language: onsite, remote, on-demand, pre-scheduled, simultaneous, consecutive, streaming, virtual, hybrid, in-person, integrated or standalone.

Captioning: Our multilingual captions are essential to any event management service. They complement core services like simultaneous interpretation with both human and AI-supported captions.

Translation: Translation services play a lead role in pre-event and post-event content management. From multilingual subtitles to content dictionaries and edited transcripts, translation is ubiquitous and overlaps with all other language solutions.
With so many options to choose from, our Language Solution Ecosystem is designed to assist our clients with identifying and implementing the appropriate language solution strategy for their organization.
Ready to discuss your next multilingual event setup?

Speak to our team today!