The Case for On-Demand Interpretation in Schools
Nina Reyes
|

September 20, 2023

According to data from the National Center for Education Statistics (NCES), there were nearly 5 million English language learners in U.S. public schools in 2020. Under the Equal Educational Opportunities Act (EEOA), each state must take appropriate steps to ensure that these students can participate meaningfully and equally in educational programs.

In addition, schools must communicate information to limited English proficiency parents in a language they can understand about any program, service, or activity that is called to the attention of parents who are proficient in English. This includes matters such as registration and enrollment in school programs, parent handbooks, report cards, requests for parental permission in their children's school activities, parent-teacher conferences, or meetings to discuss special education, to name a few.

See this figure of English learners in public schools in the U.S. published by the NCES,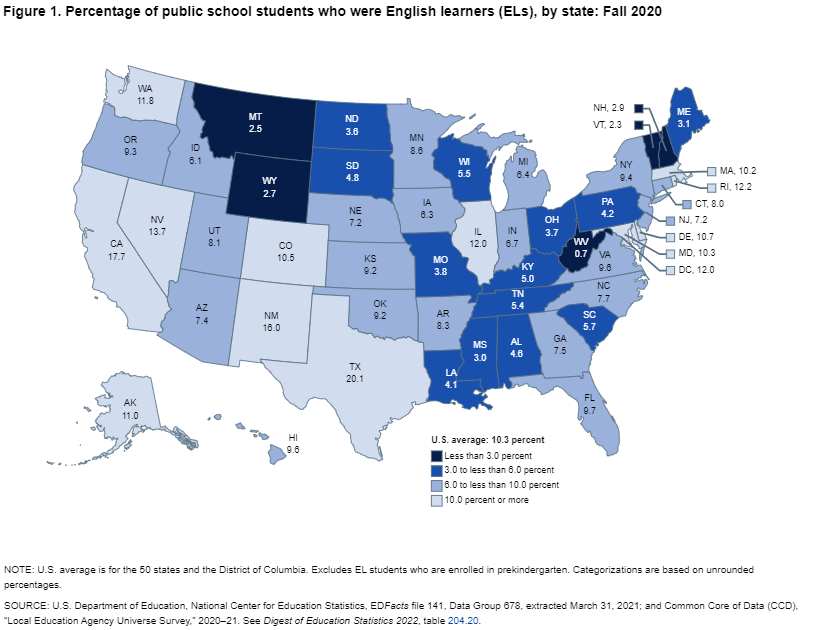 The Challenge with Interpretation in Schools
And while some information is delivered in writing and can be translated with sufficient time for professional translation, live meetings such as parent-teacher conferences must overcome the challenge of interpreting the spoken word on the spot.
According to the U.S. Department of Justice and the U.S. Department of Education, schools "must provide translation or interpretation from appropriate and competent individuals and may not rely on or ask students, siblings, friends, or untrained school staff to translate or interpret for parents."
Ensuring access to a professional interpreter presents a logistical challenge for schools and school districts, as they must ensure that interpreters …
have knowledge in both languages of any technical terms or concepts used in the communication,

are trained in the role of an interpreter and the ethics of interpreting,

can maintain confidentiality,

and are available as needed, often on a moment's notice.
The Solution: On-Demand Interpretation
On-demand interpretation provides the ideal solution to this challenge. By offering on-demand interpretation using a trusted language services provider, schools can ensure that all parents are able to fully participate in meetings and understand important information about their child's education. And this not only benefits parents. It also enables teachers to better connect with families and promote a more inclusive environment.
So how does on-demand interpretation work?
On-demand interpretation means you can get connected to a professional interpreter in seconds via any mobile device or a desktop computer. At Interprenet, we offer over-the-phone interpretation using dial-in access and video remote interpretation, which can be accessed via mobile app or web browser.
Interprenet On-Demand offers schools instant access to qualified interpreters in the education sector covering hundreds of languages, including American Sign Language.
Suppose a teacher needs to call a parent with limited English proficiency. Then the teacher can use our mobile app on their smartphone or open Interprenet On-Demand in the browser on their computer.
In a few simple steps, the teacher can:
request a qualified interpreter instantly by selecting the language and service type, such as education, and be connected within seconds.

choose whether the interpreter should join via video or audio only.

choose from more than 300 languages, including American Sign Language.


Benefits of On-Demand Interpretation in the School Environment
Effective communication between school staff and parents is integral to a student's success. On-demand interpretation allows for seamless communication between teachers, administrators, and parents who may have limited English proficiency. This promotes stronger parent-teacher relationships and encourages parents to be actively involved in their child's education.
In addition, providing on-demand interpretation signals that a school values and respects the diverse backgrounds of its students and families. By accommodating various languages and cultures, the school reinforces an atmosphere of mutual respect and understanding.
If you're interested in learning more about how we can help your educational institution, contact us today!