From the legal and corporate worlds to healthcare and education, our Video Remote Interpretation (VRI) solution means ease of service at your fingertips.
We provide high-quality, instant interpreting via video and audio with low per-minute rates. Tap into our robust network of 13,000 vetted and qualified VRI interpreters using Interprenet On-Demand.
Why VRI with Interprenet?
Introducing Interprenet On-Demand, our most advanced solution for VRI yet.
Our VRI solution lets you connect to a professional interpreter in seconds.

Access 13,000 professional interpreters covering 300+ languages, including certified American Sign Language (ASL).

On-demand access to interpreters 24/7 with convenient per-minute billing

Benefit from effective and stable audio and video virtual communication

Compliant, secure, and encrypted

User-friendly interface adaptable to any device
Discover Interprenet On-Demand:
It's a delight to work with Interprenet. Their staff are charming and efficient.
We use Interprenet exclusively and have been very happy with the response and scheduling needs we have requested.
Business-to-Business
In B2B settings, VRI is ideal for virtual meetings, allowing for both parties to be understood. VRI allows for greater flexibility than does in-person interpreting as you can access a remote interpreter in seconds using Interprenet On-Demand or pre-schedule interpretation for your next event or meeting. It also offers less administrative burden and reduces overall costs.
Business-to-Consumer
Businesses across industries communicate with their customers and buyers through multiple online channels. But did you know that nearly two-thirds (65%) of potential customers want to reach brands by phone. VRI is an ideal solution to augment your customer service and sales teams with instant access to interpreters to serve your linguistically diverse customer market.
Educational
In the US, English Learners (ELs) account for roughly 10 percent of all public schools. In some states, this percentage is doubled. However, many rural school communities lack an adequate number of in-person interpreters. With VRI, schools can ensure equal access to education for EL students and help parents with limited English proficiency communicate with teachers in their preferred language.
Medical
Every year, emergency rooms across the United States receive nearly 136 million patient visits on average. If eight percent of these visits are from patients with limited English proficiency (LEP) - the percentage of the US-LEP population - then every year, ERs across the nation arguably treat as many as 27 million people who struggle to communicate in English. By investing in VRI, healthcare providers can swiftly meet the needs of their LEP patients, reduce lengths of stay, and decrease the number of 30-day readmissions. Beyond the hospital setting, VRI can be especially beneficial to outpatient services, including specialty care centers, counseling, behavioral health services and more.
Legal
Every year, the American legal system serves millions of residents and visitors with diverse backgrounds. In some circuits, hundreds of languages are spoken every single day. Add to this shortages of onsite interpreters, especially interpreters for Languages of Lesser Diffusion (LLD), and we end up with a system of bottlenecks and inefficiencies. With pre-scheduled Court Certified Interpreting-Remote (CCI-R), the VRI solution for the legal industry, inefficiencies will be resolved as court-certified interpreters can be virtually present in the courtroom streamlining court proceedings.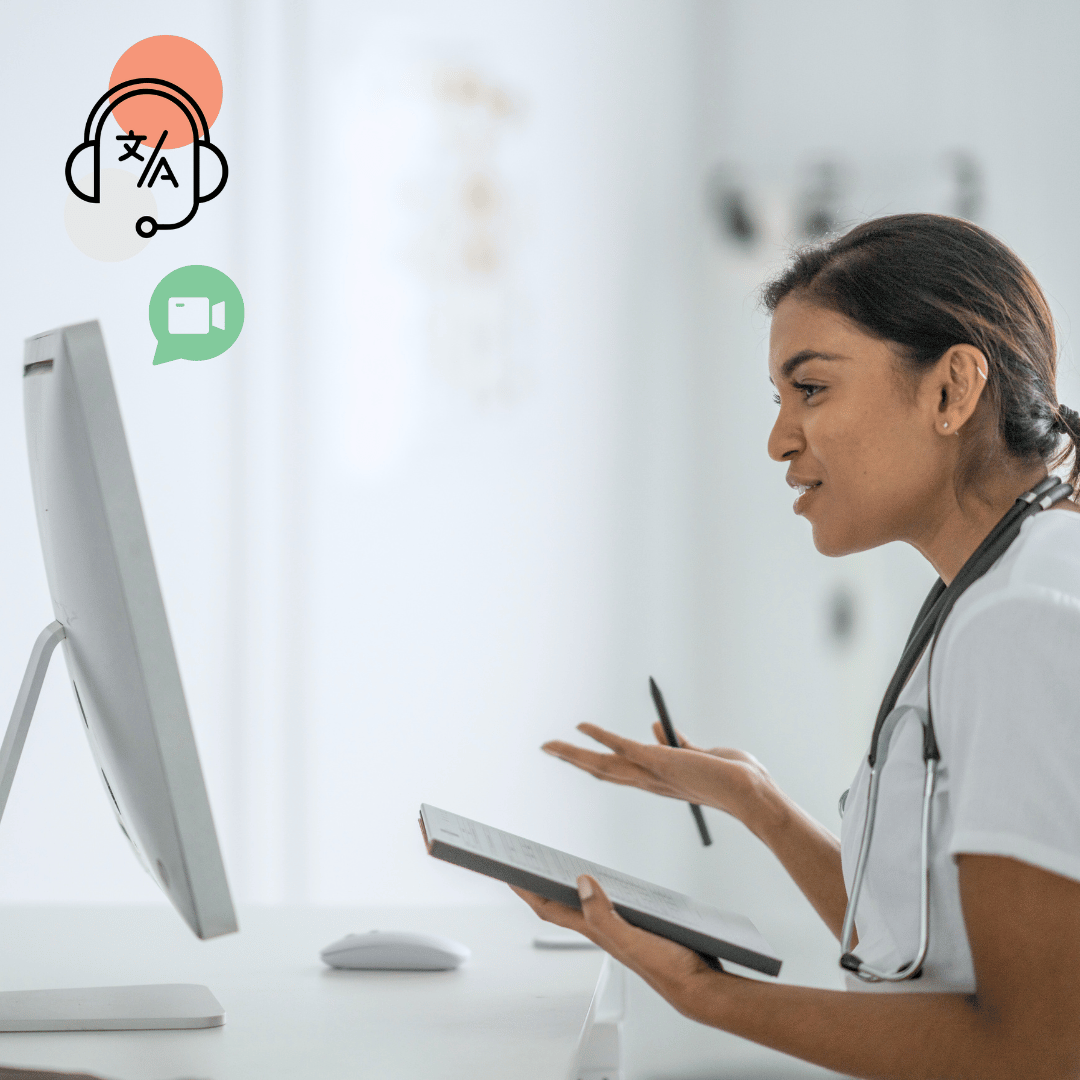 How Does Video Remote Interpreting Work?
Interprenet On-Demand
VRI made "as easy to use as FaceTime"


Access VRI using Interprenet On-Demand in two ways: using your smartphone app or using the web browser.
Choose your language and your service type, which is the specialization that you need from your interpreter. Wait a few seconds until the system matches you with the ideal interpreter for your requirements.
The VRI interpreter will then accurately interpret the conversation consecutively.
Pre-scheduled VRI
Ideal for Certified Court Interpreter Services


Contact our scheduling team to request your Certified or Credentialed Interpreter (Court Certified, Medically Certified).
Provide your preferred virtual platform, date, time, and duration for your scheduled meeting.
On the date of your event, log into your preferred virtual platform. Once all parties are present, your interpreter will accurately interpret either consecutively or simultaneously, depending on your preference.
We're happy to demo our VRI solution for you:
Request a demo or a quote.