The Five Fabulous Accomplishments of 2022 by the Interprenet Team
Nina Reyes
|

December 20, 2022

As we are looking back on the year, we are grateful for everything we have accomplished in 2022 with our team, our partners and friends around the world, and our global network of linguists.

We collected the five most exciting developments and highlights in this blog post. Thank you to everyone who has made this year so very special. We look forward to continuing to promote understanding around the world with our distinct blend of human and tech-forward language solutions in 2023.
---
Presenting the Interprenet Language Solution Ecosystem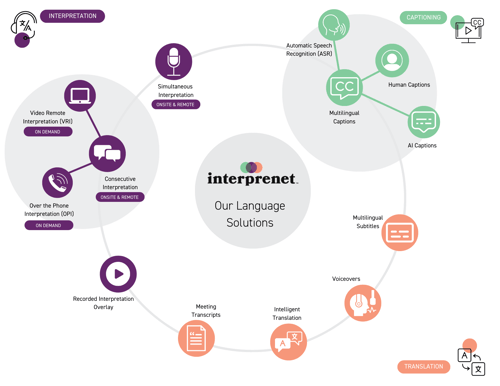 We presented our Interprenet Language Solution Ecosystem in the fall of 2022 to bring a framework to our consultative approach that factors in the interrelationship between language solutions. In this way, we help our clients achieve their business objectives with solutions that make the most sense at each point of their journey.
Our ecosystem also reflects our human-to-human (H2H) mindset, which centers around the total commitment to listening to our clients, diagnosing their needs, and resolving their multilingual challenges – in a customized and personalized way. We're proud to champion this H2H mindset across the organization prioritizing customized solutions as opposed to a cookie-cutter approach.
Introducing Intelligent Translation Solutions
As the need for accurate translation continues to grow in our globalized business world, our team has made it a point to enhance both our team and our solution capabilities to best provide the diverse translation needs our clients come to us with.

At Interprenet, you can choose between translation by a human linguist, full machine translation, or a combination of machine translation and editing by a human linguist. Leveraging the best of human and technology-assisted translation, we tailor the translation process to your needs.
In addition to business translation and localization projects, our translation services also extend to the events industry where conference organizers and meeting planners are looking to augment their multilingual event production with multilingual session transcripts, video recordings with embedded multilingual subtitles, or event registration pages in multiple languages.
Here's a great article we wrote about the benefits of intelligent translation solutions for your event.
Celebrating a new partnership with London Metropolitan University
In July, we announced that the first cohort of students from London Metropolitan University's (LMU) Conference Interpretation program completed a practice program that allows them to shadow professional interpreters during live events.

As part of our partnership with LMU, the shadowing component kicked off in September of 2021 to sharpen the interpreter's listening skills and their ability to recognize different accents.
And there's more: The first cohort of students to successfully complete the shadowing program moved on to practice interpreting using dummy booths at real events. This component of the program allows them not only to hone their skills using the state-of-the-art interpreting platform by our technology partner's Interprefy. It also prepares interpreters for unexpected situations that arise during live events. Twelve students in the class of 2021-2022 already completed the live practice interpreting program using dummy booths.

We couldn't be more delighted about this partnership and look forward to equipping more aspiring interpreters with the skills essential to a smooth, high-quality RSI experience in 2023. Read the full press release about this partnership here.
Providing RSI for Microsoft Teams and other virtual meeting platforms
Since launching Remote Simultaneous Interpretation (RSI) solutions in 2016, we have been a leader in integrating live interpreting solutions into virtual conferencing platforms. Our goal is to give clients user-friendly solutions that work with their existing communication infrastructure. If, for example, an organization relies on Zoom for video conferencing, then our interpretation solution is designed with the Zoom user experience in mind.
Microsoft Teams is the video conferencing tool preferred by most companies worldwide who already use Windows, Office, and Azure products. The way to integrate multilingual solutions like RSI into Microsoft Teams is quite different from other communication platforms. In fact, there's a level of complexity involved upfront if you want to do it well. Our CEO David Medrano laid out how we make RSI work in MS Teams in this blog post.
Achieving Project Management Excellence in the Language Services Industry
How do you build a successful project management team that can be scaled up quickly? That's what our director of global services, Carolina Herrera, asked herself in 2018 when she started recruiting interpreters for Remote Simultaneous Interpretation (RSI) to Interprenet.
"Methodically, in less than two years, our team at Interprenet managed to quadruple our global network of interpreters. At the same time, the need for well-equipped project managers became a priority," writes Carolina in her blog post. "Then, when the pandemic broke out and RSI became the solution of choice almost overnight, we were able to navigate that tsunami well for two reasons: We had built an extensive network of qualified linguists and set a solid foundation to ensure our project managers had the knowledge, tools, and processes to succeed."
Read in the blog post how Carolina and her team managed to create excellence in our project management by modeling their approach to our mission and values, summarized in our two acronyms T.O.P. and A.C.T.


➡️ Want to discuss your multilingual needs for 2023 with us?

Speak to our team today!