Interprenet CEO, Guest Panelist for a Zoom Government Webinar
Joey Cochran
|

July 12, 2021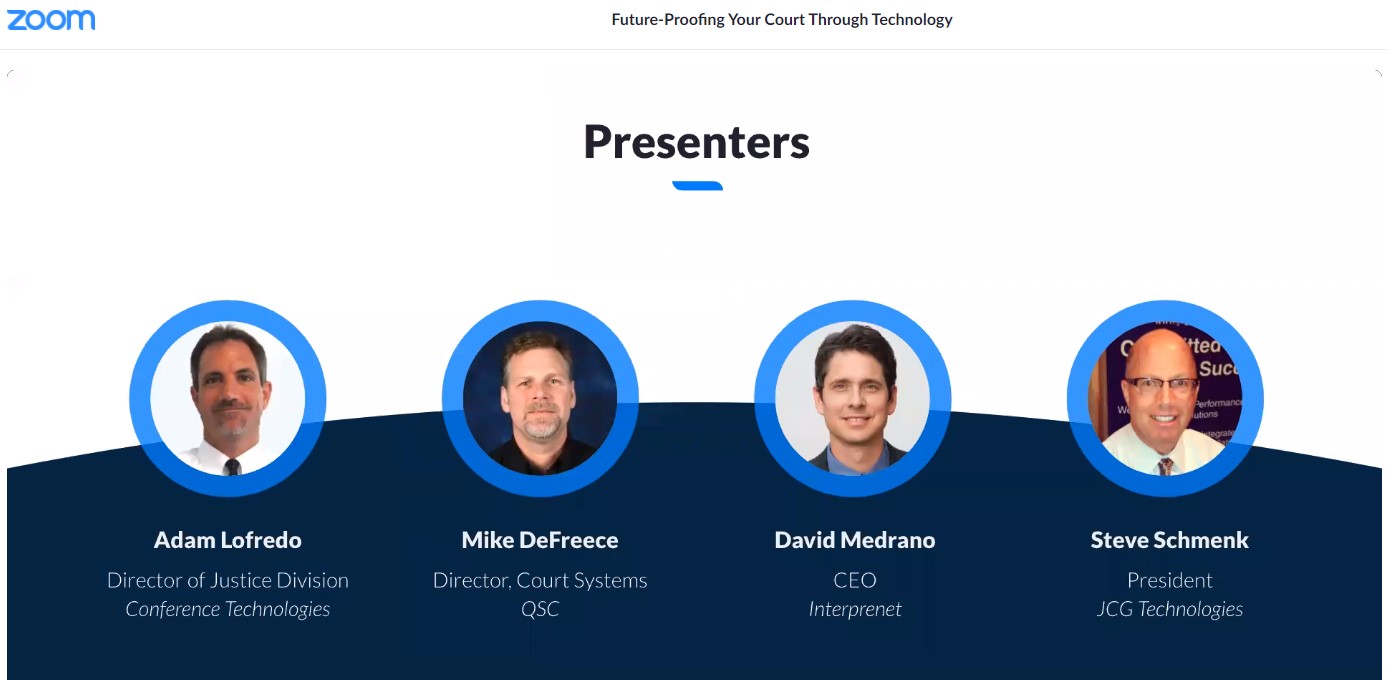 Interprenet's CEO, David Medrano, recently participated in a Zoom Government Webinar on the topic of "Future Proofing Your Court through Technology." This panel included technology integration experts for remote Zoom meetings in courtrooms across the United States. For this panel, David Medrano discussed the vital topic of providing equal language access to justice with the help of interpretation technology.
Court Certified Interpretation
Since court and legal interpretation requires a high level of accuracy and precision, Medrano reported that AI solutions are insufficient to meet the demands required for these meetings. Human linguists, specifically Court Certified Interpreters, are specialized linguists, who now may be sourced remotely. Court certified interpretation is a specialized occupation that often demands a premium price.

According to Medrano, there are fewer qualified interpreters for Languages of Lesser Diffusion (LLD) than for common languages like Spanish. What this means is that court certified LLD interpreters are simply not found in many parts of the country. Furthermore, flying these interpreters out to court hearings is costly and inefficient.

Medrano provided a technological interpretation solution to these challenges. Court systems may mitigate the scarcity of court-certified interpreters and their premium costs by allowing interpreters to fulfill their role from a remote location. This is convenient for the courts, interpreters, and people seeking justice. Medrano also commented that remote interpretation reduces administrative and logistical challenges for both interpreters and courts.
Remote Simultaneous Interpretation for Courts
Medrano discussed how legal professionals as well as Limited English Proficient (LEP) persons and non-English speakers benefit from the proper use of remote simultaneous interpretation for some kinds of legal proceedings like hearings and trials. The technology leveraged for a remote meeting can make the use of simultaneous interpretation highly effective. The clear video and audio received by the interpreter and a separate language channel for the parties who require interpretation make this a viable method.

This is a radical shift from the traditional mode of consecutive interpretation commonly used in legal and court settings. Medrano described the difference between simultaneous and consecutive interpretation and how they can both be used effectively during a legal proceeding. When appropriate, the advantage of simultaneous interpretation is that it can reduce the duration of a court proceeding by half. Medrano commented that not all Court Certified Interpreters know how to interpret simultaneously, so it's important to test and train interpreters before they interpret remotely in this mode.

The entire panel discussion and webinar of "Future Proofing Your Court through Technology" is available to watch here from Zoom.


Interpreting Services Article Categories:
Get the Latest News | What's New at Interprenet?